Home
---
Hello Kitty Games
Roller Rescue
Hello Kitty Bees
Kitty Blocks
Hello Kitty Memory
Dress Up Hello Kitty
Room Creator
Hello Kitty Romance
Sanrio Jewels
Hello Kitty Coloring
Hello Kitty C & P
Mega Memory
Happy Hello Kitty
Hello Kitty World
Hello Kitty Flower
Hidden Numbers
Hello Kitty Bubbles
Ferris Wheel
Hello Kitty Fashion
Hungry Hello Kitty
Hello Kitty Puzzles
Hello Kitty Adventure
Hello Kitty Room Decor
Hello Kitty Bedroom
Hello Kitty Jumping
Hello Kitty Fan
---
---
Hello Kitty Dental Care
Hello Kitty Makeover
Hello Kitty Bike Ride
Hello Kitty Fruit Slasher
HelloKitty Roller Rescue 2
Hello Kitty Girly Dress Up

Hello Kitty Games - Play a fun hello kitty game online for free. This site is updated often with new and exciting user created Hello Kitty games. If you love Hello Kitty and love games, this is the site for you. HelloKittyGamesPlay.com strives to bring you the Internets best girl games. To the left of this site you will find the websites navigation for easy game play from any page. Have fun playing games at HelloKittyGamesPlay.com!
---
Android Hello Kitty Games
If you don't have a PC to play our websites fun flash games on, the next best thing is to check out these Hello Kitty Android games that are available on android powered tablet and phone devices. Most of these games can be download from Google play or Amazon Appstore. We provide a bit of info about each game and a link to where you can download each game. Most of these Hello Kitty Android games are 100% free to download and play. They range from a few different genres such as simulator, racing, dress up and much more. Have fun and remember to come back to this page often as new android games will be added to this page in future updates. We want this to be a complete list of only the best downloadable mobile Hello Kitty games available online.
Hello Kitty Cafe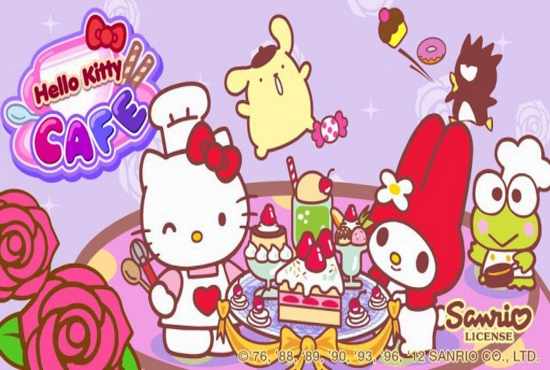 In this game you get to run your very own Hello Kitty Cafe. Set prices for food and drinks. Hire and fire people, choose your work force team. Train your employees and eventually they will level up and get better at there job. You will start out just running your new business with not much items, but if you play it enough its possible to turn this Hello Kitty cafe into something very special.
Download Hello Kitty Cafe Android Game at --> Google Play or Amazon Appstore
---
Hello Kitty Beauty Salon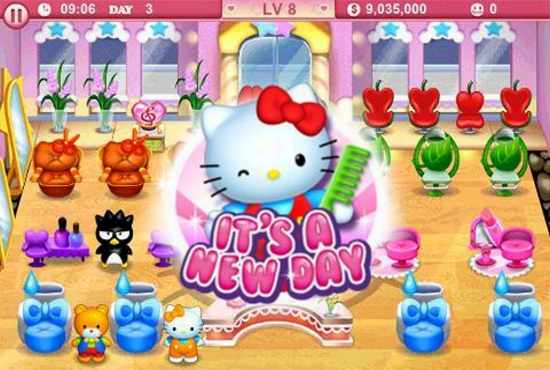 Its time for Hello Kitty to run her very own hair salon business. Your job is to hire and train fellow Sanrio characters and start from the bottom of the salon business work yourself up. Earn coins to buy more decorations make your Salon boom with business and look cool.
Download Hello Kitty Beauty Salon Android Game at --> Google Play or Amazon Appstore
---
Hello Kitty Carnival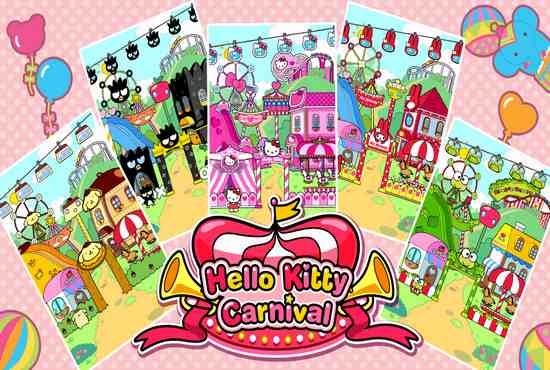 Five different carnival levels can be unlocked Each carnival has its own games that people can play. If people like your carnival set up you will make a lot of money to build new carnivals, provide more games and hire more workers. Everything in this game can be leveled up.
Download Hello Kitty Carnival Android Game at --> Google Play or Amazon Appstore
---
Hello Kitty Kruisers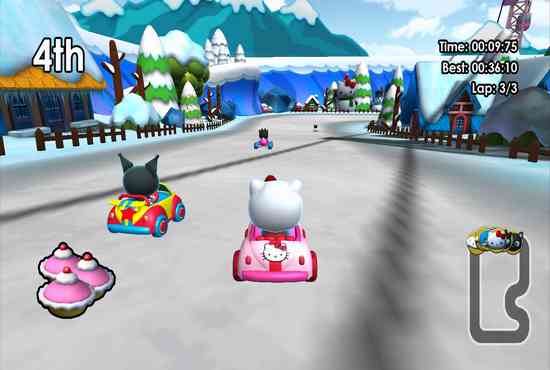 If you like Mario Type Kart racing games you will love this Hello Kitty kart racing game. Play on 6 different race tracks. Many Hello Kitty characters to choose from. Many other Karts and other cool unlocks are available to you the more you play the game and win races. The only downfall about this game is that its not free. This game costs $1.99 from Google Play.
Download Hello Kitty Kruisers Android Game at --> Google Play

Please check out our friends sites. You will find a lot of fun girl games and other flash game sites here !!!
---
Site - Privacy Policy
Home - HelloKittyGamesPlay.com
Hello Kitty Characters and Names are trademarks of Sanrio, Japan. This site is not affiliated with Sanrio in any way. This site is a fan created flash games site for Hello Kitty fans.